1969 Vette Convertible
Original Numbers
Corvette Stingray. 350hp 350ci Small Block, freshly rebuilt long block. Steel Crank, Dome Pistons, Mild Cam, 2.02 Fulies, Aluminum Intake, all in a 4 Bolt Main, and all Stock. 4 Speed Aluminum Muncie, Stock. Mallory Ignition, Double Clutch. New Radiator. New half shafts, etc., stands nice and strait. New master cylinder, calipers, lines, and breaks, all oem Frame welded, comes with two part frames. Rally Wheels with new tires all round. New Convertible Roof. Removable Hard Top. Needs interior and body work finished. She was Originally Gold with a Gold interior.
.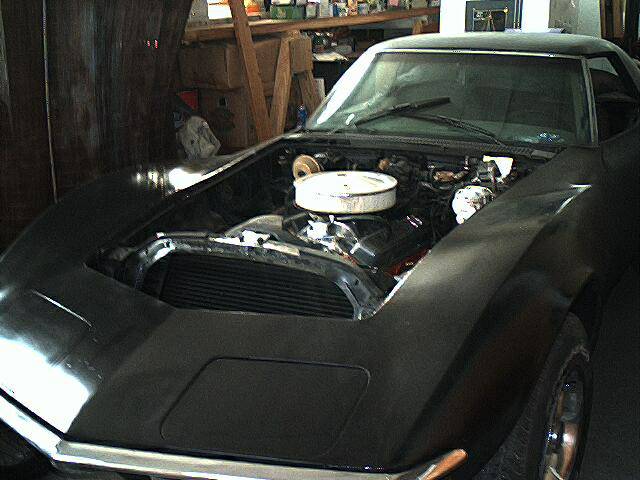 Boy has this car ever undergone some changes :)>
Originally a melt down (someone thaught you could use paint remover on a Vette, and more is better right). Original pictures are lost, but haven't given up on finding them again. Current photos lost the same way, another hard drive crash. But you can see newer ones on the NudeAutoMall.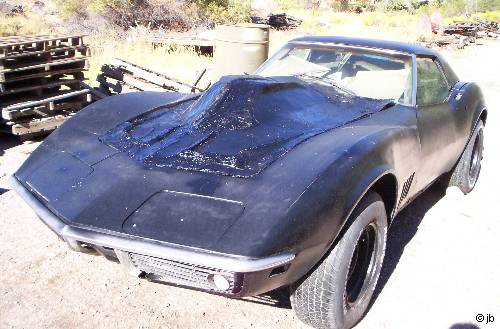 Just a glimpse of the hood I am building to hide the tunnel rams.

Located in Nevada,
jb@frias.net
Project sponsored by the NudeAutoMall
| 49 Ford | 38 Chevy | 61 Chevy | 69 Vette | 73 Chevy | 72 Harley | Opel GT | Lamborghini | Monte | 67 SuperChicken | 1921 Dodge Brothers | Essex | Jaguars | 23 Packard |